In this fifth assignment, we are introduced to 3D Scanning & Printing. As for 3D printing, it is a subject that I know a bit and I would like to know more. During the Fab Academy I want to learn how to use Rhino for 3D file design, and also, to control the 3D file review and slicing programs (Meshmixer, Cura, Slicer…). As for 3D scanning I had used Skanect on a couple of occasions.
3D Scanning
The first objective of this assignment is 3D scan an object. I have decided to scan sunglasses but Skannect couldn't detect them. I don't know exactly the reason why it wasn't working, maybe for the dimension and proportions or maybe for the lenses of the glasses. Although this the coffee cup worked well and I have the scanned file.
I also wanted to scan a coffee cup because I would like to scan a volume and generate a secondary packaging foam made of upcycled organic waste. If I had to scan again I would try to make a 360º scan, to have more information of the object. Maybe I could use a giratory platform to move the object and mantain fixed the scanner.
Screenshot of the 3D coffee cup scanned model visualized in Mac Preview and Repetier.
Here you can find the files:
08_3Dscan-model.stl
08_captured.ply
08_processed.ply
08_reconstructed.ply
3D Printing
The second objective of this week is design and 3D print a small object that could not be made subtractively. I have decided to do a Rhino tutorial to learn how to generate Twist Forms. Here you can find the link: https://www.youtube.com/watch?v=xwizkRTN8bY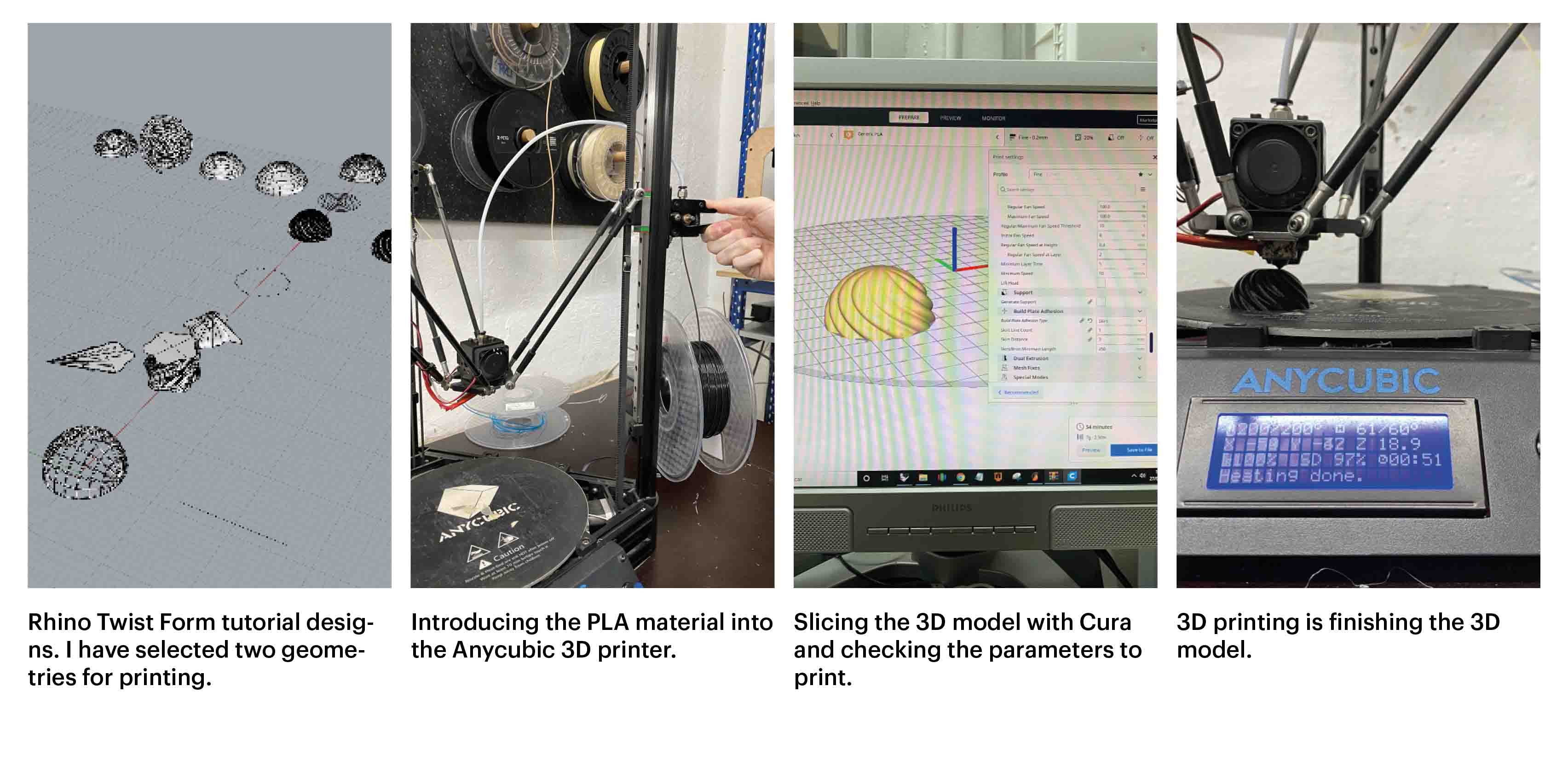 Final 3D print object:
Here you can find the files:
08_twist1.stl
08_twist2.stl
08_twist3.stl
08_twist4.stl
3D Metamaterial Print
Here you can find the files:
08_metamaterial-pliers.stl
08_pliers.3mf
3D Biomaterial Extrusion